Review Guide for the Best 3D Mouse for CAD
For people involved in CAD projects, having a simple mouse would suffice but that is because the idea and reasoning behind purchasing a 3D mouse is quite obscure to most people. Here in this article I will discuss why you should buy the best 3D mouse for CAD, what to look for when buying a 3D mouse for CAD and provide you with three of the best options that are available in the market today.
Click here to skip to the 3D mouse reviews!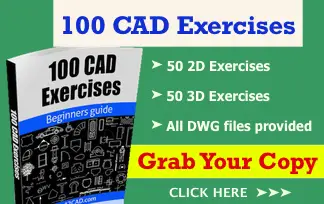 ---
Why make life difficult with a 3D mouse?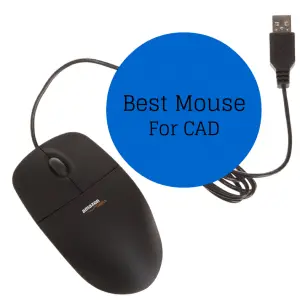 That's what most people think who haven't tried using it yet. To explain the advantages of having a 3D mouse I will delve into the world of CAD, for which products like these are introduced. Most CAD applications operate the same way through a normal mouse using scroll wheel for zooming purposes, middle mouse button for panning and using the keyboard to change views to a specific plane. People investing serious amount of time in 3D modelling will agree to its exacting nature being quite taxing on fingers and even resulting in pain from the continuous use of the middle mouse button particularly while using Catia V5.
A 3D mouse tends to eliminate this factor by assigning zoom and pan control to one hand leaving the other hand to handle the remaining commands. It even employs shortcuts thereby eliminating the need to resort to the keyboard for specific functions. All these functionalities together with programmable keys results in the users accomplishing their tasks effectually.
---
What to look for in a 3D mouse?
Every CAD software these days facilitates the use of shortcut keys to make the designing process much less involved. To achieve this would require you to look for 3D mouse that provides customizable keys and plenty of them. Having them is not that important if you are more accustomed to using the keyboard for that purpose but saving small amounts of time in numerous places can certainly be helpful. The most fundamental point to realize is that the best 3D mouse for CAD will make the most effort in allowing you to interact with your 3D model rather than your software.
Just like mice have DPI as a measure of their accuracy so do 3D mice as well. Some even go as far as to incorporate a 6 degrees-of-freedom (6DoF) sensor capable of detecting input as small as 4 micrometers! There is no need to be pedantic here, the higher the resolution the more precise your 3D mouse will be.
Almost every 3D mouse available today comes in both wired and wireless version. Long gone are the days when wireless connections seemed to conspicuously lag and with 3D mice being top notch products targeted at professionals, you can confidently be indifferent towards any issue thrown your way concerning wireless connections. Your choice to buy a wired or wireless mouse depends solely on your working environment.
---
Best 3D Mouse for CAD
As much as I would have liked to present you with products from different companies, its safe to say there is only one company which has truly dominated and successfully catered to the arduous demands of CAD professionals. The company is aptly named 3Dconnexion and it does so in every possible way. It has even gone so far as to cater for people who are constantly on the move and need both compact and light products to carry with them.
It has released three 3D mice and has recently launched a CAD mouse as well which by the way is already being considered by many to be the best normal mouse for CAD. Remember the precision I talked about earlier, yes all three mice are that precise and the technology has been used by NASA to manipulate the first robotic arm in space. Here I will present their three products that will suit the need of every CAD individual out there so here they are:
| | | | |
| --- | --- | --- | --- |
| Features | SpaceNavigator for Notebooks | SpaceNavigator | SpaceMouse Wireless |
| Pull (mm) | 46 | 55 | 54 |
| Rotate (mm) | 68 | 78 | 78 |
| Weight (grams) | 250 | 479 | 424 |
| Connection | Wired | Wired | Wireless |
| Travel Case | Yes | No | No |
| Price | Lowest among the three | Medium priced | Highest of the three |
SpaceNavigator 3D Mouse Review
All three of the these products are mostly the same differing in some minor features that I will highlight later on. These mice allow the user to simply push, pull, twist or tilt the 3Dconnexion controller cap to intuitively pan, zoom and rotate, while your other hand simultaneously uses your existing mouse to select, create or edit. It even has a software that allows you to open a four button radial menu by pressing either of the two buttons located on the mouse. Lets say I have a sketch made and I want it to be extruded so I simply press a button on the mouse and it does that for me without having the need to type in a command!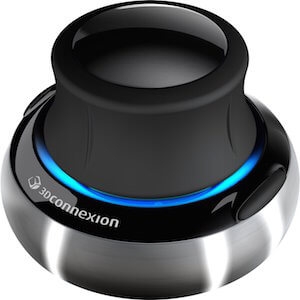 Click here to see reviews and prices for the SpaceNavigator 3D mouse on Amazon.com
The software which comes with the product offers a glut of customization features allowing the users to tailor the mouse to their needs. The notebook version even comes with a supplied protective travel case. The table below provides a comparison between the three mice:
The only slightly unfavorable factor I can think of among these mice is that it has only two buttons but since it belongs to the lowest category of what this company has to offer, it can be easily forgiven for this.
SpaceMouse Pro Review
The difference between both these mice is just of connection. As you can tell one is wireless while the other is not. Espousing the technology of the above mentioned mice these models expand on their functions by including an extremely well designed palm rest, 15 programmable keys, keyboard modifiers such as Control, Shift, Alt and Esc functions, having QuickView Keys provide fingertip access to 12 views and the ability to turn off rotation in case you are working in sketching mode. An onscreen numpad can also be easily called instead of having to use the numpad on your keyboard while the onscreen display constantly reminds you of the commands allocated to programmable keys. Four intelligent keys present on the mouse recognizes your application environment and assigns appropriate commands to them. If only it could design on its own.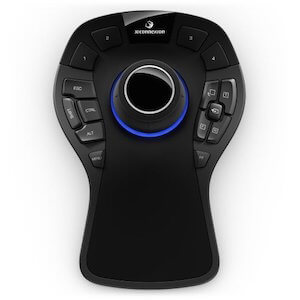 Click here to see reviews and prices for the SpaceMouse Pro on Amazon.com
The price this product commands, which is understandably quite high compared to the previously discussed mouse, truly represents the effort that has gone in its splendid design that is ergonomic as well. If you are looking to increase your work productivity further then this is the right product for you.
SpacePilot Pro
SpacePilot Pro is the latest and most advanced option among all the options discussed earlier. It expands on the features present in SpaceMouse Pro by adding 10 more customizable commands to suit your needs. Compared to SpaceMouse Pro it also features the ability to restrict the movements of the controller cap to any axis required. Four additional commands are added to QuickView Keys allowing you to observe the model from all six directions including the isometric view.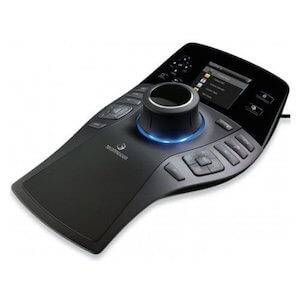 Click here to see reviews and prices for the SpacePilot Pro mouse on Amazon.com
The most distinguishing feature on this product is the LCD that works as a Workflow Assistant allowing the user to see important notifications without distracting them. The function key applet displays the commands assigned to the intelligent function keys and includes out of the box function key profiles covering a wide range of softwares including Catia V5/V6, Solidworks, Inventor, SolidEdge, 3ds Max, Maya, Softimage and Sketchup. Moreover, it's compatibility with Solidworks, Inventor, NX and Creo allow the user to see model properties that include file size, creation date and time, last person to edit the file as well as mass, density and volume of the 3D model which is extremely handy.
The work flow assistant also alerts the user of a new email along with the senders name and pressing ok opens the email on your desktop monitor. The only drawback to this product is its non availability in wireless format.
---
Conclusion
All three of them are big winners depending upon your needs. Nobody likes to work tediously but not everyone is a serious CAD person either so the choice from among the three products is largely dependent upon your working environment and the increase in productivity you expect.
To me the price feels entirely justified. In fact 3Dconnexion predicts a three week return on investment if its product is used in tandem with a normal CAD mouse that they have introduced as well. A product that reduces pain by 77% during the first six months of use, eliminates muscle fatigue by 65% compared to a normal mouse and yet provides both features and functionality tailored around a CAD professional no doubt has obliterated its competition to become the sole supplier in its category.
Note if you are looking for a cheaper mouse, check out this article.