How to Design Interactive 3D CAD and 360° Product Photographs
When a prospective client visits your website, you have only a few minutes to impress them. Literally.
Since your online store isn't physical, there's no one to tell a potential client where to look, to find unique pieces or products. As there is no interpersonal relationship at an online store, you have to look for a valid replacement in that regard.
The static photos on your website are not interactive, and cannot fulfill this need, ultimately. This is where you need to implement a 3D product tour into your website with 3D CAD and 360° product photographs: To help clients see images from several angles, and make it more exciting for them.
The aim is to convert visitors to paying customers, right? Good. Therefore, you need to learn the art of 3D CAD and 360 product photography for your online store's products.
This short article will take you through the process and equipment required for 3D CAD and 360 product photography.
The Process
The first thing to keep in your mind about this kind of photography is that it has to do with shooting several pictures of your product, at different angles, and so more than anything else, getting the perfect angles to matter a lot.
To get a 360-degree view of a product does not mean you have to move your camera all around the product. Rather, mount the camera on a tripod stand, and take pictures of your product rotating on a 360-degree turntable.
After shooting and subsequently editing these images, you are all set to find an excellent 360-degree viewer; whose sole purpose is to display your images in an interactive 360-degree view.
Required Equipment
If you have been taking pictures of your product at all, then you already have a camera. If it's a good one (a Canon camera is acceptable), all you have to do is set it to manual mode.
Sometimes, the simplest of equipment make for the most fabulous results. With a good tripod stand, you can keep your camera in a perfectly still position, and as such, you can shoot a 360° view of your product.
For our discourse on product photography, there are two kinds of light: strobe lights and continuous lights. For strobe lights, they flash really quickly e.g. for a fraction of a second, while continuous lights stay on throughout, without flashing.
You can use any of these types, or a combination of them for excellent product photography.
All you need to function as a 360º turntable is any sort of a rotating turntable that has a circular plexiglass top (preferably with indentations around the outer edge to give each shot some distance from the other).
The size of the background paper to be gotten depends on the size of the products you want to put on display.
With a remote shutter release with which you fire your camera, it should not bother you about your camera moving at all during your shoot.
Shooting Your 360º View: Valid Tips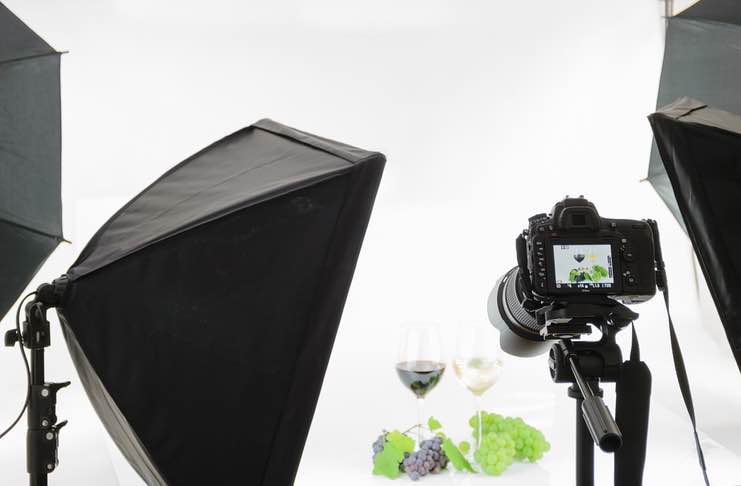 It might tempt you to think your product does not require cleaning prior to shooting. Well, it does; because that tiny stain or dust speck might require lots of time to touch up with Photoshop, especially when you planned to get several frames of the same product.
If you place your product properly at the center of a turntable, you take away the risk of it wobbling when spun.
For several people, the golden number is 24 frames. To be honest, it's a good one because it allows for both loading speed and spin smoothness.
It is important that you don't make this error because doing so would mean you make two of the same frames, leading to a slight pause at the angle at which spinning occurs.
To have evenly spaced out angles, you would require the purchase of a turntable which has notches on its outer edges.
This way, you can allow for consistency. Some nice 360º viewers allow you to modify starting angles via the aid of software whenever you want to.
As a matter of fact, you'll find that most hardware and software for product photography are set at clockwise ab initio, which means you don't have to worry about any manual resetting.
Want to have an easier shooting and editing process? Shooting in JPG is a smart step to take then!
After shooting, it's wise to apply edits to images in batches, bearing in mind that you'll often have lots and lots of images to edit.
Clients don't see how much work you put into making those pictures excellent behind the scenes- but they don't have to: simply make the pictures pop, and you'll have them flocking all over you, and your brand!