With almost 4 new mainstream abstractions for the SSD technology, we got around to putting the best options available in the market head to head. Reviewing the top products from each category we also added an extra product from the category we think will be the new thing in the coming future. Read on for more information on our picks.
---
Product Reviews
M.2 – The Samsung 960 Pro
The Samsung 960 Pro is one of the first products launched by Samsung for the M.2 form factor. It's tiny compared to the SSD sizes we're used to and would easily fit the dimensions of a DIMM RAM stick. Available in 512GB, 1TB and 2TB, the interface is an NVMe PCIe allowing transfer rates of up to ~3.5GBps for reading and ~2.1GBps for writing, under ideal testing conditions as highlighted by the manufacturer.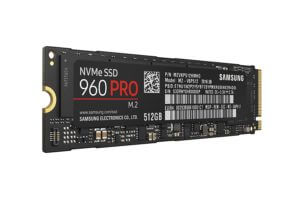 Click here to see reviews and prices for the M.2 – The Samsung 960 Pro on Amazon.com
Within USD 400, the 512GB drive is an economical as well as performance-grade option for those serious about saving space, virtually and physically. It is also the fastest drive in its arena beating Intel's drive and it's own predecessor (the 950 Pro) by almost one-tenth speeds.
PCIe Add-In Card – The Intel 750
With tests clearly showing that the Samsung 512GB model easily beat the Intel 1TB model in terms of read and write, there were other test results with conclusions different than before. The use of the x4 PCIe slot allows the card to be added in and hence does not fit the M.2 form factor. This enables the device to reach incredible speeds (which may not be enough to outmatch the 960 Pro) but also offers more options.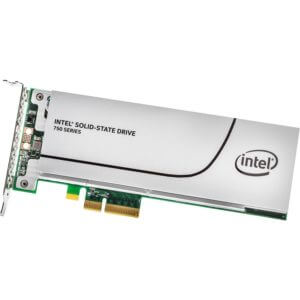 Click here to see reviews and prices for the PCIe Add-In Card – The Intel 750 on Amazon.com
Peak transfer rates are ~2.5GBps for reading and ~1.2GBps for writing but in real life these scores tend to vary. When transferring large files from disk to disk, the sustained reads and writes witness the Intel product taking the lead by leaps. This means short bursts of data transfer, such as the ones performed during testing of devices are pretty different from real life scenarios.
With a 20nm 3D NAND footprint, the Intel drive also comes with the U.2 interface allowing diversity, but only when buying. As a suggestion, we highly recommend buying other manufacturer's products instead of buying a U.2 interface device and then using adapters to connect devices to different interfaces. At almost USD 600, the 1.2TB drive from Intel is a pretty good bank for the buck.
SATA III – The Samsung PM863
This drive, is a hallmark of perfection using the SATA III standard that boasts a fancy 6.0GBps. And it's true. Which is also why it's for almost USD 700. But that is not where the story ends. Because of the SATA standard, the backward compatibility issue goes out the window meaning you don't need fancy adapters or a new motherboard for your new drive. It does however mean that the maximum capacity you can get is 3.84TB with read and write speeds of up to 5.5GBps, phenomenal from a SATA interface stand point.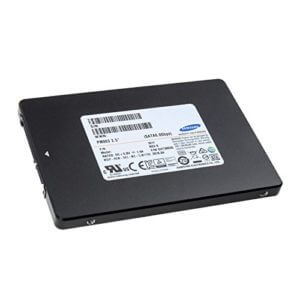 Click here to see reviews and prices for the SATA III – The Samsung PM863 on Amazon.com
The drive's architecture is also unlike other of the manufacturer's products with a 32 layer proprietary technology with a 128Gbit TLC V-NAND chip. This means a 1GB LPDDR DRAM. Power failure protection, warranty for technical failures and a power requirement of only 1.3W on idle (Intel can't come down from ~7W), all come together to put this at the top of our list of all four drives compared here (the fifth is the most-economical and future-proof option in our opinion from one of the categories).
U.2 – OCZ ZD6000
The lesser known but yet established hardware manufacturer OCZ is one of the first to produce commercially available U.2 interface NVMe drives. With 800 GB and 3.2 TB options available (1.6TB in between), the drives use Toshiba NAND chips offering up to 2GBps of read and write speeds.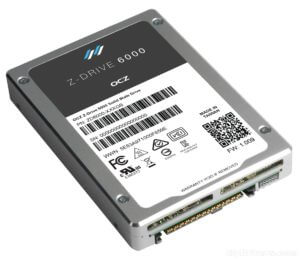 Click here to see reviews and prices for the U.2 – OCZ ZD6000  on Amazon.com
Power Loss Protection (PLP) is a proprietary technology that helps the drive back everything up in the case of a sudden loss of power. Built-in data integrity checks work hand in hand with the 256-bit AES encryption mechanisms. With a (Mean Time Between Failures) MTBF of more than 2 million hours, the and built-in hot-swap support, this is truly one of the best drives we have encountered in the U.2 NVMe arena.
---
Our Pick for Favorite
Now that we have our toppers for their respective categories it is time for our favorite pick. Don't get us wrong, this one does nothing that the others don't but being the top of the list comes with a cost, pun intended. A-list devices are obviously more expensive, with price tags hyped further up because of the brand name. With that in mind, for the working-class CADers such as ourselves, our favorite pick for SSD is the Kingston Digital Hyper X Predator.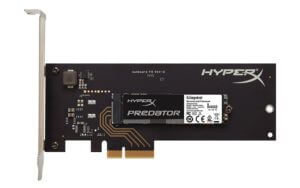 Click here to see reviews and prices for the Kingston Digital Hyper X Predator on Amazon.com
The drive is a PCIe card which offers blazing fast transfer rates. As always Kingston outdoes itself by offering every single bit of detail in a super friendly manner on its website and quoting those, the drive offers 600MBps to 1,400 MBps for reading and as well as writing operations. Random 4K video reading/writing is proposed 70,000 to 120,000 IOps (Input-output Operations per second). Available in capacities of 240, 480 and 960GB the drive's NLC NAND chip offers the expected 1 million hours MTBF (life expectancy).
One factor that really counted in making this our favorite was the following: Support for WinXP. With Microsoft having officially retired the OS, Kingston lives up to its customer-friendly reputation by not abandoning what I still consider a major populous of the IT consumer base. And if all this wasn't enough, you can get the 480GB version for around USD 220, a pretty good deal compared to the A-list alternatives we saw above.
---
Conclusion
As we have seen, the storage business is booming in every direction it can. Drives of all form factors, compatibility options and factors that didn't even exist before SSD are popping up from manufacturers around the world. So, if it gets too much for you, the general rules of thumb are as follows:
PCIe and SATA are interfaces (how the drive connects to the hardware) whereas M.2 or U.2 are form factors (physical sizes of devices).
PCIe offers speeds but requires a PCIe (x4) connector. SATA III offers lesser speeds but is backward compatible.
M.2 is meant for laptops, while U.2 is meant for mobile devices (tables and smartphones etc.)
With this, and our handy guide, you should have a good idea of what awaits you in the market place, when you go shopping. A very Merry Christmas to all our readers.