Choosing the Best CAD Workstation Furniture
CAD furniture by itself is an extension of furniture and arrangements that maximize a CADer's comfort during the experience. The furniture complements the person more than the software, as is the case when you're building your workstation from scratch. The furniture allows you to house all your equipment, with progressive advancements in design and function. We are comparing pro-grade to premium, home together with office furniture for those long hours in front of the screen. With that being said lets take a look at the top CAD workstation furniture products that are worth buying.
---
CAD Workstation Furniture: Which ones are good?
1. Kallax by IKEA
Diving right into it, my first choice from the endless list on furniture websites was the Kallax by IKEA. My personal favorite out of the 4 options was the white model. With 12 shelve spaces at the back and height adjustable legs you can customize it just to your preference, anywhere in between 26″ and 42″. The best thing about the design is that if two people want to use it they can sit facing each other on either side with ample room for two computer screens back to back. If you've got two screens, either sit across or just raise one side above the other and place one screen right on top of the other. Check out the link to see what I'm talking about.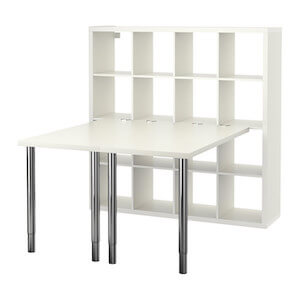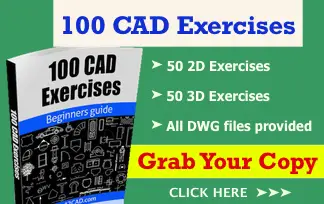 The whole thing is about ten parts altogether with instructions in the box. The dimensions are nearly 60″x60″ and the assembly specifications allow you to swap different non-glass IKEA products with that table and vice versa. The legs are made of steel and chrome platted, while the rest of the unit is ABS plastic. The design is simple and effective, with a lot of place to put your external backup HDDs or DVDs and other accessories.
2. Glass Top Computer Desk with Four Shelf  Bookcase by Techni Mobili
Next up, is the Contemporary Glass Top Computer Desk with four shelf bookcase, Black & Gray by Techni Mobili. The name is a mouthful and pretty self-descriptive, but for a quick pictorial preview visit here . The assortment of furniture includes a vertical section serving as a shelf with a horizontal extension creating a desk, a workspace adequate for a single person. The vertical column has multiple sections so printers, stationary and everything that you need at an arm's length are all to your left.  The desk is spacious with a glass top and a wireframe-like-thin design much to the delight of an engineer (and the CADer, I suppose).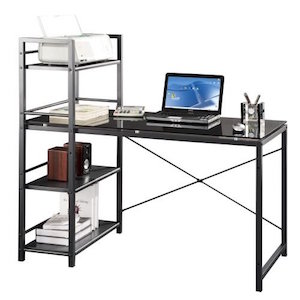 Click here to see reviews and prices for this Techni Mobili furniture on Amazon.com
The design also allows movement and space for adjustment with that wireframe design getting rid of any drawer edges you might scrape your knees with. There's nothing beneath the desk and that allows for a comfortable extension of legs stretching them past the back and beyond. Its ~50″x25″x50″ in Height, Width and Length and has a steel frame to support the glass top. With a 5 year warranty, this is a pretty sweet bargain. FYI because this is also DIY assembly, the package ships in two separate boxes.
3. Computer Desk with Black Glass Top by Coaster Home Furnishings
Next up for review is the Computer Desk with Black Glass Top in Black Powder Coated Metal by Coaster Home Furnishings. This table is a slab of black glass with a near to perfect finish. The open and broad design is somehow shy of being fat while providing ample space for atleast 3 27" screens. The desk has a pull out keyboard tray with two deep drawers and some open space to the side under the desk for your knees and legs. The design is spacious and open surprisingly more open than the previous table even though the design here is bolder than the wireframe. In its final shape and form (yes you guessed it, DIY assembly) its ~70 pounds in weight available in metal in the color black. With a four year 5-star track record, this is one of the most approved off pieces of furniture on the face of the internet.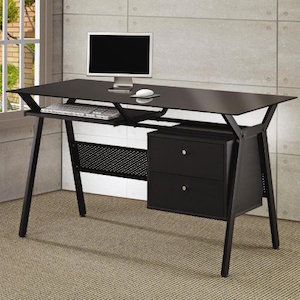 Click here to see reviews and prices for Coaster furniture on Amazon.com
4. Upper Shelf Laminate Computer Desk by Lorell
Another great piece of computer furniture is the upper shelf laminate computer desk by Lorell. It has a design meant to allow you to work on a variety of devices, from desktops to tablets and Ipad's. The upper compartment has special holders for a tablet with open wire frame holders for disks and drives. The steel structure is ~35" x 24" x 35" with 2 shelves and a single drawer.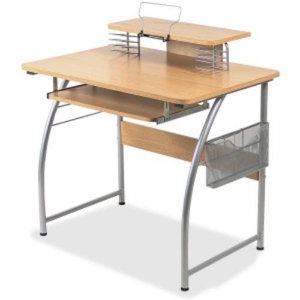 Click here to see reviews and prices for this Lorell furniture on Amazon.com
5. Furniture Cabot L-Shape Computer Desk by Bush
The last review here will be the Furniture Cabot L-Shape Computer Desk with Hutch in Espresso Oak by Bush. It has a desk with ample space for more than one screen. It's made of Oak wood and has a dark chocolate hue to its sturdy structure with glass windows complimenting the cabinets. A single drawer and other vacant sections provide enough space for keeping the important things at arm's length while putting the rest in the shelves up top.
The bottom of the desk offers ample space for long legs and the L-shape allows maximum width for parting your knees. The L-shape also means that you can easily put it into a corner lined up with the walls and have your own work space with a very economic use of the space. And we haven't even gotten to the best bit yet, wire and cabling management. The table has its own wire space and cabling routes for effective and maintainable wiring. 4 USB slots are built into the table so connect the table to your computer and forget about having to reach behind the table and connect or disconnect your phone when charging. The price is high compared to the rest of the options but a year's warranty and the rest of the sch-bang make the price worthwhile as a great CAD workstation furniture.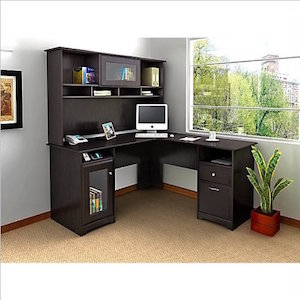 Click here to see reviews and prices for this L-shaped Bush furniture on Amazon.com