Businesses worldwide have shifted to advanced technology, making many processes more straightforward. Even storing vital information turned virtual, with more companies forgoing multiple filing cabinets for online cloud networks. Thus, you'll find files like CAD data in the cloud rather than physical storage in engineering, design, and similar fields. 
Clouds are godsends to businesses and professionals of this era. Moving your CAD data to the cloud would be best with everything going digital nowadays. Keep reading to learn why.
1. More Security
Despite the threat of malware and hackers, clouds are still notably secure as storage for information, including CAD data. Using a private cloud network for your business ensures confidential files, blueprints, and other details are safely stored or transferred between authorized personnel. Competitors are less likely to imitate your CAD designs if they're kept safe in your company's cloud storage unless someone grants them access. 
Businesses often employ the help of outsourced information tech specialists to prevent this issue from happening. If you're one of our readers in Louisiana, for example, IT support in New Orleans or others from nearby areas are open to protect your vital data using updated security methods and respond to cyber threats quickly. 
Additionally, they may hold compliance training seminars for your in-house team, so they maintain the strict security your business' cloud needs. 
Rest assured that your important, private work files stay within your company's reach. So, even if someone accidentally shares data with an unauthorized person, there's likely a security system in place to ensure it doesn't go forward.
2. Improved Accessibility
What makes cloud storage superior to a physical filing cabinet is that anyone with access to it can access it anywhere. Hence, it's ideal for businesses with remote teams. Having your CAD data transferred to a cloud also makes it easier to see who last updated the files and what exactly they did. That's relatively harder to do when the original files are kept in a desktop folder and passed through email. 
CAD data transferred in the cloud allows you and your team to share and work on files when needed. You don't have to wait for project plans to come to you. So, wherever you are, you can access a file and quickly send it back with all changes indicated in detail.
3. Better Collaboration Opportunities
The presence of the cloud has made group collaboration much more effortless in both schools and businesses. Individuals with authorization and an internet connection can work on a project simultaneously wherever they are in the world. Plus, they can see real-time comments and suggestions and make changes immediately. Working on the cloud speeds up the process, which as a result, hastens turnout rates. 
It's also for this reason that cloud-based services and storage options are sought after by countless businesses. Most companies want to create their products as best and fast as possible. Thus, if your CAD data is transferred to the cloud, your team can work together and finish the job quickly. In addition, your clients and industry partners may access your projects and share their remarks to improve the quality of the products further.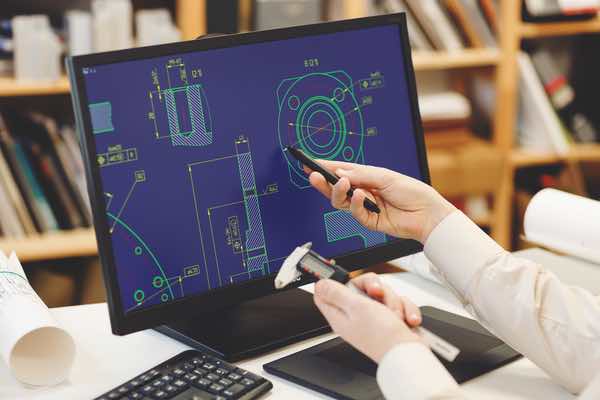 4. Additional Space
Even the largest workplaces aren't spacious enough to have several filing cabinets filled to the brim with documents. Established businesses may have several products on their belt, and many more are still in the planning stages. Hence, they need a place to keep their blueprints. However, if they have their files created digitally, chances are that their CAD software has a cloud system for storage. This removes the requirement for physical storage space in your workplace accordingly.
5. Low Costs
Cloud storage often involves one or more servers. But for a business, one is usually more than enough. Therefore, companies can save money if they migrate their CAD data into a cloud service of their choice since they're not required to have different servers and data centers.  
Furthermore, using CAD software and its accompanying cloud storage options reduces your need for additional workstations and hardware. With your work and data accessible through the cloud, you have a significant budget for other investments that benefit your business.
6. Enhanced Competitiveness
The industry has gotten more cut-throat since the advancement of technology and the surge of new devices. Smaller businesses lately have a big boost thanks to obtainable infrastructure, which allows them to keep up with more established peers and level their playing field. 
While transferring files to the cloud seems like a relatively easy task, it still has risks that can harm your business if not done correctly. Thus, it's crucial to consult with IT experts who can help you shift to the cloud and maintain data integrity as you migrate your CAD data. Ensure that you coordinate with a reputable team for this, so your important files aren't compromised.
Conclusion
The migration of CAD data to the cloud is one way for businesses of all sizes to match pace with an ever-evolving world. It might be difficult for some who are used to older methods. But many young and new companies have seen more advantages to using cloud-based services and storage. Your business may also see significant growth by applying the same modern techniques.