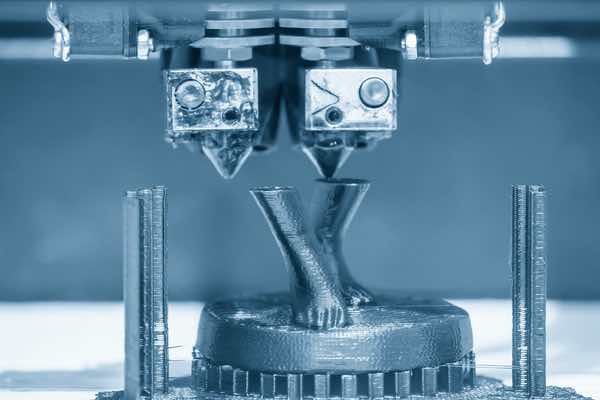 3D printers can considerably reduce the cost of production and, in turn, the price of products. And companies such as Alveo 3D also help to improve the environmental impact of printing. The future of 3D printing looks bright as it is expected to bring dramatic advancements in many areas, from construction and electronics to the food sector.
The most common 3D applications in the energy, industrial and electronics sectors are:
Components, heat exchangers, electric motors

Engine parts

Plastic injection moulds

Robot parts

Metal printing

Automotive batteries

Printed electronic circuits

Sensors

Tools
3D printing in the construction sector
The 3D printing of houses or the construction of outlines attracts many with its futuristic side and simplicity. The Chinese are pioneering 3D printing houses, and the government of Dubai discovered contouring construction. In this city of the future, the first 3D-printed office building has already been built.
3D printing in robotics and electronics
Robotics projects often involve thousands of parts working perfectly together. Additive manufacturing offers the possibility of producing these unique parts while respecting strict tolerances and constraints. With a variety of materials adapted to the most specific projects, 3D printing is an ideal solution.
The world of electronics has also seen an impressive evolution with 3D printing. Indeed, scientists see electronic 3D printing as the future of digital device manufacturing. Currently, studies are actively being conducted on the properties of graphene and its application in additive manufacturing. One of the most significant advances in this field is undoubtedly the creation of a graphene battery with an unlimited lifespan on a 3D printer.
3D printing in the pharmaceutical sector
3D printing has also impacted the manufacture of tablets and other drugs confirmed by epilepsy pills made using a particular method. The essence of this 3D printing perspective lies in the gradual release of active substances. With this method, you will not need to remember to take enough tablets; you will only need to drink one.
3D printing in the food industry
3D printers for food products are gradually gaining space in cafes and restaurants. Although it is probably one of the rudimentary 3D printing technologies, it also has real potential. Food 3D printers are particularly interesting for their ability to prepare food for astronauts. In addition, it allows you to display exceptional culinary talents.
What does the future hold for 3D printing?
3D printing will improve the reliability and quality of devices and facilitate product distribution. In addition, the capabilities of this technology are increasingly being discovered by users, driving a growing demand for desktop 3D printers worldwide.
The future of 3D printers currently depends on 3D printing materials, such as polymers, and new ones are being developed. In addition, many companies carry out the development of special equipment and related materials.
However, although it is already possible to request a 3D printing quote, the various 3D technologies are not yet fully developed, which is why this technology is still regarded as futuristic. You may have heard of multiple futuristic 3D scenarios beginning to unfold today, such as virtual reality techniques and 3D scanning to create bespoke clothes, shoes, and accessories. The 3D technologies of the future will probably involve bio-printing.
In short, 3D printing is a technology set to become more important as it becomes increasingly more accessible and easier for innovators and creatives to turn their ideas into reality. It's clear that 3D printing will make it possible to make significant progress in many areas in the future.