The number and size of files you save in your company system vary depending on their content. For instance, Word or Excel documents don't take up much space compared to raw design files or videos. But if you're running a design business, you might need higher-capacity storage.
Various files you work on can take up a lot of space in your computers. Additionally, saving all your soft copies in one place can slow your hardware down and risk system failure. Fortunately, here are four tips you can follow to store and safeguard your data:
1. Hire An IT Company  
Nowadays, design companies outsource some services they can't do. For instance, enterprises hire an IT business to back up their data, store their files, and secure their networks. Your business might not have adequate systems to save your documents safely. Organizing and keeping large data can also be troublesome if you don't have an IT team in-house.
Suppose your data shows your business can operate more efficiently with the help of IT experts. If that's the case, you can search for some of the best IT support in Chicago from Isidore or other service providers. Find a company to help you manage large file sizes without compromising quality. Additionally, they can help you improve your office software and hardware to ensure your system is operational.
Furthermore, an IT provider can help you recover files during unexpected situations. For instance, if you can't save a file you're editing due to a power interruption, they can help you get the file back. This is critical for design businesses, as starting a project from scratch takes a lot of time.  
2. Check Recently Saved Files  
No matter how advanced your equipment or design software is, there may still be times when files don't get saved correctly. For instance, you can save a corrupt copy when your software fails. To avoid losing your progress, try reopening files you recently accessed to check if you saved them correctly.
If the file doesn't appear in your folders, you can try saving it again before exiting the application you're using. This simple practice can prevent your company from losing important files. Additionally, this step minimizes delays in your operations since you don't need to re-do any projects you couldn't save properly. 
Encouraging your team members to follow this practice ensures they won't encounter problems when they're working. Additionally, creating a backup of their projects can help them keep their progress when they encounter software or hardware problems.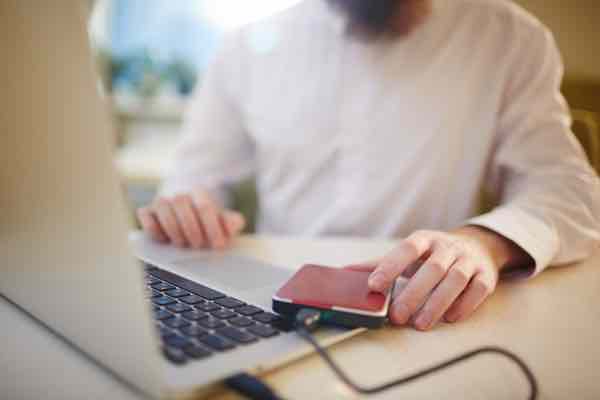 3. Use A Hard Drive
Maximizing your equipment's storage capacity, like your desktop or laptop, can sometimes affect hardware performance in the long run. If this happens, you can struggle to create more complex design projects or open and close larger documents. This can affect your work since you need your hardware to keep up when creating designs.
Saving some of your files on an external hard drive is a solution to avoid slowing down your PC or laptop. Nowadays, you can find hard drives with higher storage capacities you can easily plug into your computer to expand your storage space. You can use it for heavier design files or large-scale projects.
Staying organized and knowing where your documents are, are vital in design businesses. You can designate different hard drives for specific projects so you won't mix up data, especially if you're handling multiple projects.  
Another advantage of an external hard drive is you can take it anywhere you go. Some compact models allow you to bring them anywhere to work on your design projects. This is beneficial for multiple designers working on a project or a hybrid work setup.
4. Update Your Backup Regularly  
Backup files can help you continue your projects when you accidentally delete or lose your soft copies. It can prevent backlogs and ensure you can complete client projects on time. Updating your backup files regularly is critical, especially when you work with different design projects regularly.
You can upload copies of your files to a secure online storage system. Doing this makes your files accessible to all your team members. Saving them online can reduce your risk of losing important data forever. Additionally, it helps save space as it won't take up your hardware's storage capacity.
Alternatively, you can update the files on your equipment in case a system outage or failure corrupts the files of a project you're working on. You can create a separate folder on your computer or laptop for backup. In addition, copies of more recent or ongoing projects ensure you don't encounter problems with data loss in the future.
Final Thoughts
When you're running a design business, your project files are your bread and butter. If you lose them, your company can suffer losses and lose clients. Hence, it's ideal to keep some data storage and backup systems in place. Hiring an IT company for your data concerns and saving files on a hard drive is an excellent first step. These practices can help you manage your work documents more efficiently and safely.