Searching to learn more about CAD ERP Integration? You've reached the right place. Self-sufficient organizations look for ways to expand and scale. These companies take on several operational challenges to optimize designs across platforms for scalability. Being cross-platform, they integrate processes for workflow efficiency. 
Given that, if you run such expanding organizations, one of the solutions you'll be looking into is CAD ERP integration. For this, you may need to engage with ERP consulting companies or plan the integration process yourself. If you're doing the latter, this post details practices you can deploy for success.
What Is CAD ERP Integration About?
CAD and ERP stand for computer-aided design and enterprise resource planning, respectively. A fusion of both terms suggests a process that uses computer technology to aid the designs of business processes through a single system. 
In other words, integrating CAD-ERP means you'll need to adapt and synchronize all CAD-ERP software to gather data and implement a comprehensive manufacturing process. Therefore, the hybrid integration method is usually recommended for custom manufacturing, business scalability, and expanded growth. 
More significantly, you need the integration to reduce clerical errors, improve the focus of your company's engineer on designing rather than data entry, and ultimately increase data flow in the work cycle of your departments.
Features Of A Successful CAD ERP Integration
While CAD-ERP integration may be tricky to measure, there are ways to know if you're doing the right thing. Thus, the three most essential features of such integration include:
High Return On Investment:

An excellent CAD ERP integration will generate high returns on investment (ROI). So, during an after-performance evaluation, it's worth checking if the executed investment is worth it or not. In doing this, the initial capital is weighed side by side with the yielded returns. 

Consistent Synchronization:

An optimized and fully-synchronized integration leads to a successful investment. Your integration needs to sync with your projects to achieve the right results. That way, you can avoid

data errors

, BOM errors, increase in cycle time, insufficient information flow, and data design inaccuracy. 

Efficiency And Simplicity:

From start to finish, the integration of CAD ERP should be simple and run-on stellar efficiency. Simplicity should be seen in the range of implementation to custom programming. It should also be easy to install and maintain.
Although there are other features, such as collaboration and security, the three mentioned have proven valuable metrics for measuring CAD-ERP integration.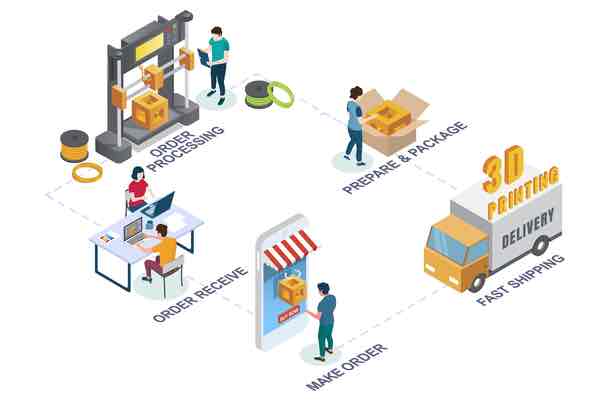 Strategies And Practices Of Effective CAD-ERP Integration
Selecting the best CAD ERP is not sufficient for successful integration. To scale the boards and top the chart of vendors, you need to indulge in the following practices:
1. Improve Your Product Engineering
All product development depends on the configuration and adaptation of ERP design systems. There's an absolute need to refine technical support to ensure engineers involved in your integration use the best of computer software and systems. To make the design more collaborative, enhance quality data accuracy, and ensure workflow integration, improve your product engineering.
2. Use CNC Machining For ERP Solutions
Computer numerical control (CNC) machines dictate factory tools and machinery for ERP solutions during CAD integration. Thus, using the software means you can eliminate errors and waste, increase efficiency, provide real-time information to make timely decisions, and reduce cycle time across platforms for efficient integration.  
3. Leverage Model-Based Reasoning 
The introduction of model-based reasoning, like artificial intelligence, is significantly changing CAD ERP processes. Automated machines require little to no human intervention for proper integration. They further grant benefits such as speed, waste reduction, personalization, and plenty of room for integration ideas.
4. Plan Cybersecurity Measures
The benefit of planning cybersecurity measures is two-way traffic for the integration of CAD ERP. As part of the integration process and planning, intended digital assets are defended using a cybersecurity plan.  In return, a fully integrated CAD ERP system protects your business from threats and unauthorized access.
5. Invest In Good CAD-ERP Software
Overall productivity and efficiency are hinged on the tools of operation. The model and sophistication of the CAD ERP software you use will define the productivity achieved. This software can be easily modified into standard designs obtained from various indexes. Similarly, they help in ensuring undemanding collaboration and convenience in document integration.
6. Ensure Data Quality
Ensuring data quality is another step towards a successful integration of CAD ERP. Data is vital to improved processes. Therefore, careful efforts must be put in place to ensure that data quality is reached and preserved. In this same vein, data protection is germane: all data passwords in the ERPs, including unique designs infused by CAD, should be protected. 
Conclusion
It'd be best to implement most of the best practices above to achieve proper scalable measures. If your organization seeks speed, accuracy, minimal reliance on employees, and better consumer experience, it might need hybrid technologies. While third-party consulting firms can help, you can alternatively deploy the listed practices to achieve in-house integration results.