Best CAD Schools: A Guide To Your Computer Aided Drafting Certification
So you're keen on learning CAD? Searching for AutoCad classes? Looking for the best CAD schools where you can get your AutoCad training?
Well, we'll try to assist you in figuring it all out (or partially), taking you step by step into the world of CAD school…
Why learn CAD?
Since 1999, when Autodesk invented and released the world-famous AutoCAD software, our (human) ability to automate the design process of practically anything – was completely revolutionized in so many fields and industries. Computer aided drafting and the automation of engineering and design of products has provided a huge leap in efficiency for millions of businesses. Engineers, designers and drafters use CAD software to create their projects in unparalleled speed, at a fraction of the time they used to in the old days, when everyone used pencil and paper. CAD provides them with a common platform where they can dive into the tiny gritty details of any project, dig out and fix any problem.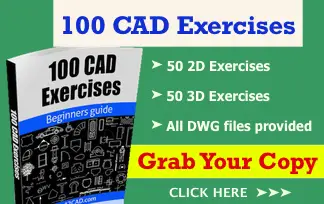 There's no doubt, CAD software revolutionized the world of design and engineering, cutting down on resources and making the design process much quicker, easier and safer.
That's why so many companies in so many industries, all over the world, need qualified CAD Designers and Drafters. That is why you should learn CAD, if that is your passion of course :).
Going to CAD School? How to Become a Computer-aided Designer…
You will need to invest some time, energy and funds into proper CAD training and education, in order to become the CAD Designer you wish to become. You can find CAD courses and classes at many colleges and universities, at trade schools and vocation schools in most countries. These institutions usually provide a CAD certification (or AutoCad certification) or some sort of associate degree program.
The bigger colleges and universities will usually incorporate Computer Aided Drafting programs into their degrees such as Engineering, Construction management, Industrial Design, drafting, etc. The other smaller community colleges or technical institutions will usually offer a 2-year CAD program (where you get an accredited Certification). These focus specifically on practical training, using CAD software for design and drafting (you'll get lots of AutoCAD Training, SolidWorks exercises, etc.).
Things to Watch Out for When Selecting a CAD School
As you're searching for that quality degree (or CAD certification) and making a list of best CAD Schools to choose from, you should look for this key feature: The CAD courses and programs MUST include hands-on utilization of AutoCAD and other related programs. Classroom lectures have to be linked with practical training and application. If you don't see that in the curriculum – don't add the school to your list.
You should also make sure the CAD schools you are evaluating maintain high standards, specially regarding their computers and software. Check if these are regularly updated to the latest hardware and software versions – to ensure the school's competency and dedication to providing the best educational experience.
What should a good CAD course curriculum look like? These may change a bit from school to school, and will naturally depend on the length and depth of your CAD program, but a solid curriculum should include courses like:
Engineering Design
Technical Design
Composition and Development
Fundamentals of Computer Aided Drafting
Design in a Three Dimensional Space
Elements of CAD Graphics
Fundamentals of 2D Autocad
Manufacturing Modeling
Advanced 2D CAD Techniques
Three-Dimensional AutoCAD Modeling
Survey of CAD
SolidWorks Application and Analysis Modules
Design and Modeling of Mechanisms
Three-Dimensional (3D) Modeling and Advanced CAD Techniques
Design Geometry
Current Developments in CAD Technology
To make you're life a bit easier, we created a list of the best CAD Schools (according to our analysis), which you can add (if you want) to your go-to CAD resource list.
Are These The Best CAD Schools in the Market?
We can't promise that of course. There are dozens of CAD schools out there, and we couldn't include all of them in our short list. We chose from the ones we know well and received feedback from our readers, customers and colleagues.
1) Johnson & Wales University: CAD Certification
Founded more than one hundred years ago back in 1914, Johnson & Wales University is a private, nonprofit, accredited institution with approximately 15,000 students at its 4 campuses in Providence, RI, North Miami, Fla., Denver, Colo., and Charlotte, NC. It has over 100,000 alumni from 155 countries.
JWU probably has one of the most experiential CAD schools out there. "At Johnson & Wales, experience is the difference.", it says in their vision. They claim their experiential learning experience is much more than an internship tacked into a major. That students work on real world projects in class, in industry specific learning labs, and sometimes even with real companies.
As for its Computer Aided Drafting studies, JWU offers a Certificate program that is comprised of 3 courses and 3 corresponding labs. Students lean the fundamentals to improve their productivity, then continue with 2D architectural, electronic and mechanical CAD, and eventually learn 3D parametric modeling where they produce parts, assemblies and drawings at industry standards.
JWU is accredited by the New England Association of Schools and Colleges Inc. (NEASC), which accredits educational institutions internationally.
For more information about their CAD Certificate program click here.
2) University of Montana: CAD Certification
Located in the heart of western Montana's beautiful natural landscape, the University of Montana draws a diverse population of students and helps cultivate an educated, engaged and vibrant community. More than 13,000 students attend the university each year, in a campus that spans 56 acres
at the base of Mount Sentinel along the Clark Fork River.
The university's Computer Aided Design (CAD) program offers graduates solid pathways into professional careers as technicians in architectural, civil, and mechanical drafting. Other career options exist in Geographic Information Systems, mapping, surveying, and technical design.
The 1-year program provides students with extensive training in business, mathematics, and writing, as well as the following skills: computer aided design, geographic information and modeling systems; graphic communications and surveying.  Graduates complete the program with an understanding of how to use computer aided design software (AutoCAD classes, etc) to solve real world graphic communications problems.
For more information about their CAD Certificate program click here.
3) University of Central Missouri in Warrensburg: CAD Degree and Certification
In 2017, the U.S. News & World Report ranked UMC (University of Central Missouri) at 86th place among regional universities in the Midwest. At UMC, which was founded back in 1871, undergraduates can pursue a bachelor's degree in computer-aided drafting and designing. They provide a few areas of specialization, including: architectural or mechanical drafting, civil drafting and geographic information systems (GIS), management and support, CAD/CAM or computer graphics.
UMC has the only four-year baccalaureate Design & Drafting Technology program in the country which is accredited by the Association of Technology, Management, and Applied Engineering (ATMAE).
In addition, by passing a special exam graduates can earn a professional certification from the American Design Drafting Association.
UCM definitely has one of the most respected CAD schools in the country. It started offering Drafting classes back in 1904 (!), and has built a strong reputation for teaching Design and Drafting Technology. Being one of only four baccalaureate programs in the country, UMC's Design & Drafting Technology program enrolls the biggest number of declared Design & Drafting Technology majors of any university in the state.
The university's CADD facilities have more than 80 computers where students practice their acquired software skills. The CAD labs are fully equipped with the latest software versions (AutoCAD, SolidWorks, CATIA, etc) and best CAD workstations.
According to UMC, over 90% of its CAD graduates get a job within six months of graduation, while high performing students usually get multiple job offers even before they graduate, with an avg. starting salary of $45,000 to $50,000.
Here's a list provided by UMC, showing some of the companies that regularly recruits UMC's CAD students:
Burns & McDonnell
HNTB
BSE Structural Engineers
BlueScope Steel
Cummins
Emery Sapp & Sons, Inc
TRUE Manufacturing Co
SPX Cooling Technologies
and more…
For more information about their CAD program click here.
4) Rochester Institute of Technology: CAD Degree
Founded almost 200 years ago, back in 1829, the Rochester Institute of Technology is a privately endowed, co-educational university with 9 colleges that focus on career education and experiential learning. Rochester also has international locations in China, Croatia, Dubai and Kosovo.
Rochester has one of these rare CAD schools which offer a 3-year program in CAD, where students earn an AAS degree. The program also provides students with some background in mathematics, building systems, construction regulations, site utilities, as well as methods used in architecture, engineering and construction. They have some prerequisites such as: at least three years of high school mathematics and science (High school physics would be beneficial).
For more information about their CAD Degree click here.
5) Idaho State University: CAD Certification and Degree
Founded in 1901, Idaho State University (ISU) is a Carnegie-classified doctoral research and teaching institution. More than 12,000 students attend ISU's high-quality education which offers more than 250 programs.
Its CAD course program admits only 30 students each year, and is accredited by the Association of Technology, Management, and Applied Engineering (ATMAE). ISU offers various Degree and Certificate options:
Computer Aided Design Drafting Associate of Applied Science (2 years)
Computer Aided Design Drafting Advanced Technical Certificate (2 years)
Mechanical Drafting Intermediate Technical Certificate (1 year)
Architectural Drafting Intermediate Technical Certificate (1year)
Bachelor of Applied Science (4+ years)
For more information about their CAD programs click here.
6) College of Southern Nevada in Las Vegas: CAD Certification
CSN is the largest and most ethnically diverse college in Nevada. On top of that, it is a fully accredited institution (since 1975) which offers over 180 degrees and certificates in more than 70 academic programs—with many of these available entirely online.
At the College of Southern Nevada, students can pursue a CAD Technology Certificate of Achievement (CA). During the certificate program, students build their technical skills in drawing and drafting using CAD software. They also gain experience with standard office procedures and production techniques. According to CSN, upon completion of the program, graduates have sufficient preparation for jobs as CAD technicians.
For more information click here.
7) Ferris State University: CAD Degree
This well-respected University is located in Big Rapids, MI. Back in 2017 the U.S. News & World Report ranked it 74th-best regional university in the Midwest. Ferris State university offers a solid associate's degree in CADD and tool design (the general program is Associate in Applied Science). The curriculum focuses on the use of CADD in fixture and gauge design, product drawing and molds for plastic processes. It educates future injection mold designers, metal stamping die designers and machine designers, who usually work with Product designers, mechanical engineers and manufacturing engineers.
Ferris students mainly work with CAD software as they draft and design molds and mechanical applications. In their final year of the program, students are tasked to create a portfolio of their work, which is a great help for entering the job market. Upon graduation, students can also directly transfer to other programs offered at Ferris, including Product Design Engineering Technology, Plastics Engineering Technology or Manufacturing Engineering Technology.
For more information about their CAD Degree click here.
If you want a list of more CAD schools – shoot us an email.
What Jobs Can I Find With My CAD Degree or Certification?
Worried about if and where you'll find a job after you finish your CAD studies? Well, that's perfectly normal to feel that way, but rest assured that if you're good – you'll most probably find a job.
Job growth in the CAD industry is expected to remain steady over the next decade. Guys and gals like you pursuing the field of Computer Aided Design should find no shortage of employment. The reason is the high demand for CAD professionals that are up to date on the most recent features and techniques used in the field.
CAD designers are required practically in any field where the use of 3D models are necessary for realizing projects and bringing these to production. You will generally work alongside engineers (be it mechanical, electrical, structural or civil engineers), architects, mechanical, product designers or even plumbers, creating and working on CAD files for new or existing projects or products.
More than 200,000 professional CAD drafters and designers are currently employed in the United States (according to the Bureau of Labor Statistics). Almost half of them work in architectural and engineering-related jobs. Niche occupations include Product Design, Mechanical drafting, Architectural/civil drafting, Electrical drafting and cartography.
How Much Will I Earn As a CAD Designer?
Your Salary is definitely one of the most important aspects of your job, but I'd suggest focusing first on perfecting your skills, learning from professionals at your work place, and enjoying your job.
Take that aside, if you're good – you can definitely earn a nice salary as a CAD Designer. The yearly median wage for a CAD designer in the U.S is approx. $53,500 (almost $26 per hour). The lowest 10% are making approx. $33,900 per year, while the top 10% earners are making $83,000 and more…
Bottomline, you should study hard, love what you do, never stop learning – and you'll do good !