Drafting app for the iPad; Interested or Not?
The fast-pace of our modern society hobbled by the ever increasing time the average person spends in traffic, means that more and more people are having to work on-the-go.
This is why we now see certain apps like; Evernote, Waze, Skype etc. being widely used because they help people either beat traffic, schedule work related tasks or appear in meetings while in traffic… And the design community is no different for traffic affects us all and the need to meet certain deadlines or provide mock-ups for un-scheduled interviews may crop up un-expectedly.
Therefore, to handle these tasks, it is important to have the tools that make CAD design possible while on-the-go and these tools are a smart device equipped with a mobile CAD app that can be used to create simple or advanced graphic designs.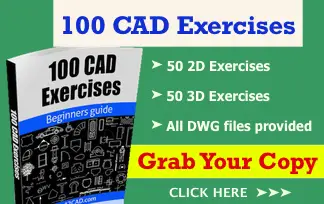 Why the iPad?
Without going into too much technical details, it is important to note that the new generation iPads—iPad 3 upwards—provide CAD designers with excellent specifications in terms of processing speed, display size and quality as well as a wide variety of CAD apps for the average designer. This makes the iPad tab one of the best smart devices that can be used on-the-go as your design workstation.
CAD app for iPad
So what are the CAD apps we recommend every designer to have?
AutoCAD 360
Ask any CAD user out there for the most popular CAD software on the planet and I bet you that 9 out of every 10 people you ask will quickly point out the AutoCAD which makes an app for the world's most popular and widely used CAD software, number one on this list. The AutoCAD 360 provides you with drafting tools that can be used to design simple 2D/3D models as well as carry out edits. The AutoCAD 360 crowning glory is that it supports Autodesk's cloud systems thereby making it possible for users to access every file he or she has ever designed and uploaded to the cloud.
Paper
Coming a close second is the widely acclaimed sketch tool 'Paper' which has won both the 'Apple app of the year' and the 'Apple Design Award' awards, since its inception.
This drafting tool provides the user with five sketching tools and a responsive interface that makes drawings accurate and easy to accomplish.
GraphicBIMx
For design and modeling firms, the need for colleagues to be on the same page during a design project cannot be over-emphasized and the mobile app—GraphicBIMx—is just the tool to make this possible.
This BIM app makes collaboration amongst colleagues easy for it is an app that can be used by every person working in a group
PadCAD Lite
The PadCAD Lite can be called the perfect on-the-go app for designing both 2D/3D models due to its simplistic interface and tools that break down CAD design to its bare minimum thereby speeding up the design process.
The mobile app was built to be used by designers from all works of life—interior decorators, architects, engineers and animators.
biiCAD Touch Pro
This mobile app unlike others on this list is predominantly a 2D drafting app that provides its users with a minimalistic interface and multiple drafting tools that make designing on an iPad quick and quite easy to accomplish.
This drafting app also supports the importation of DXF files and works with drop box as its cloud based storage feature.