M.2 vs. U.2 – Which is Right For You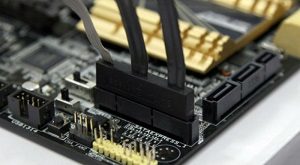 Form factors and storage capacities are the new hype of the storage market today. With the conception of SSDs, HDDs have lost public focus and the term 'SSD' has evolved from a 2.5" thin box with faster read/writes and greater capacities than HDD. Now SSD represents a set of families and if you're about to shop for devices, you've come to the right place.
Straight off the bat, any one opting to figure out what these two standards are must keep in mind two things. First, M.2 and U.2 are interfaces.
These are meant to deliver high speeds of data transfer while enabling the device to consume the least possible amount of power. Lower power also means fewer moving parts and more integrated circuits meaning the form factor or physical size of the device has dropped from the standard 2.5". Products commercially available appear to be RAM sticks because of their raw and barebone design.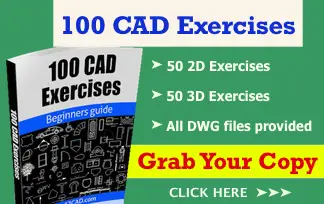 ---
NVMe – What does it mean?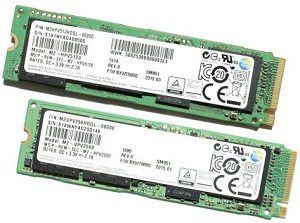 The specification of the architecture outlines the structure required by computer hardware vendors in order for them to manufacture the part.
The Advanced Host Controller Interface (AHCI) and Parallel Communication Interface Express (PCIe) were standards developed to allow access to Serial ATA (SATA) enabled features not available with Parallel ATA (PATA) such as hot-swapping and Native Command Queing (NCQ). One step further, we have SSDs.
To extend SATA a family of technologies has been derived under the umbrella term Non Volatile Memory Express (NVMe), a further derivative of NVM Host Controller Interface (NVMHCI). Within the NVMe device category, we take a head to head look at M.2 and U.2 SSD interfaces.
M.2 – A Few Words
The M.2 connector is a Small Form Factor (SFF) connector designed to replace the mSATA and mini-PCIe slots mostly found in laptops and mobile workstations. For compatibility purposes, the M.2 connector is compatible with mSATA, PCIe aswell as USB 3.0 but this versatile connectivity is secondary to its own standard, which was designed for the sole purpose of achieving the SATA 6.0 Gbps and PCIe speeds by default.
A great feature about M.2 is that power and data travel on the same bus meaning no separate power cables. That means no more cable management and if you want a transparent side pane that showcases your PC's insides, this is probably the best option out there. In addition to this, the M.2 drives are available in a number of standardized sizes (specifically 8 lengths, 4 widths and 13 different keying options) meaning no matter what you're casing allows or disallows, you can find a drive that will fit perfect on your board.
U.2 – A Few Words
The U.2 interface is a port and connector combination much like the M.2. Unlike the M.2 however the interface is meant as a standard for Non Volatile Memory Express (NVMe) devices (tablets and mobile phones although laptop and enterprise desktop hardware is also showing interest in U.2) and can allow transfers of upto 5 times that of SATA with lesser power consumption.
---
And the Bus…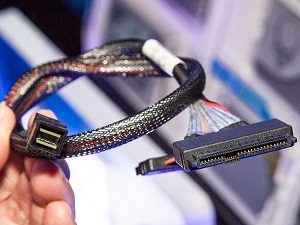 With a difference in connector shapes, it can get confusing, figuring out which device should you dump and which should you get.
Some connectors are the same but the drives turn out to be incompatible when connected. The thing to remember here is that even though M.2 has backward compatibility, U.2 does not.
U.2 connectors require the U.2 interface to be available. With NVMe enabled U.2 drives, or any other for that matter, the SATA connector available on the board can exchange at rates upto 5 times greater. Also since SATA and PCIe are not compatible with each other, the industry is likely to make a greater move towards the M.2 specification which allows interoperability.
Having sensed this, manufacturers have also made available connection adapters that will allow you to connect devices of different interfaces on account of performance.
---
Conclusion
Having read the above remarks you may have an idea of what you need and what you can get. Take a look at your casings insides and your motherboards design to understand your potential for expansion and what combination of hardware you'll be able to hook up without sacrificing performance because of the use of adapters and extensions.
Also, if you're upgrading from desktop to desktop, then space might not be that big of an issue, but when moving to a laptop or otherwise mobile workstation, the consideration shifts quite a bit. In the case you're about to setup your rig from scratch, keep an eye out for motherboards with ROG certifications for these SSD technologies.
---
Bonus Section – Asus Z97/X99
Asus was literally the first to introduce ROG certified NMVe interfacing capability to its entire lineup of motherboards and hence deserves a special mention. All of its boards have moved up from the standard 2.5" and with the help of an optional ASUS Hyper Kit expansion card, your Asus board can be boosted for 32Gbps connection speeds with lower power consumption. A single UEFI BIOS upgrade and the expansion card can have any M.2 or adapter end plugged in to it.
Because of this requirement, Asus's boards now also offer flashing the BIOS with a USB. The processor, RAM or other modules do not need to be in place when you connect and the USB with the BIOS update and press the "Reset" or "Flash" button. With this, the devices also support hot-swap and hot-plug capability straight out of the box.
Asus Z97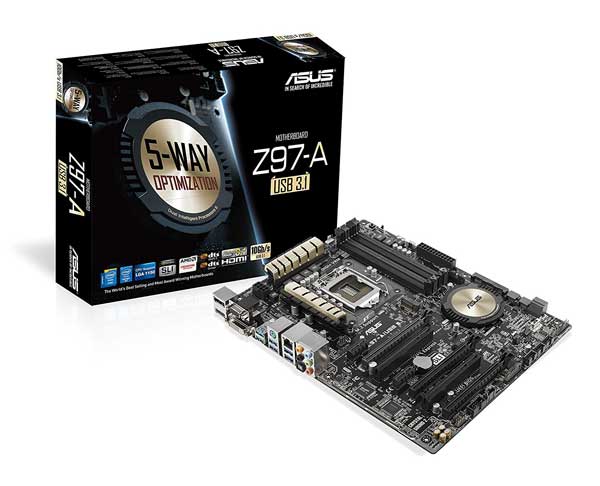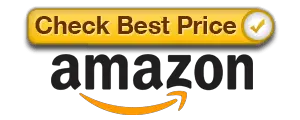 Asus X99