Revit vs AutoCAD: Pros and Cons
AutoCAD is an all-in-all suite. It caters to a big user base, an even bigger market and even complex set of domains. Its limitations are its learning curve and complex interface, along with the cumbersome feature set. One scope that was not so clearly defined or highlighted before was the fact that AutoCAD is meant for the designer and drafter, whether they be engineers, manufacturers, architects or simply hobbyists. AutoCAD was and is the complete set of tools and feature set that focuses on allowing just about anyone who knows how to use the software to design and document 2D and for the most part 3D drawings and projects.
---
Is there anything wrong with AutoCAD?
Last time, as an example, I also noted how the entirety of Disney World was developed using AutoCAD and no additional software, but it still remains to be discussed that if AutoCAD is the most powerful and complete 2D/3D designing tool why other options available are? The answer is simple AutoCAD is not the most powerful or the most effective tool out there not even within the Autodesk portfolio. It was most certainly meant to be, but due to its own conception and instantiation in the industry its reputation has left its development dependent on the industry's requirements, rather than being compelled towards innovation. Rather than having standardized the industry, AutoCAD has been victim to the industry's new found standards and has made its mark as a good tool, but certainly not the best.
This and other factors gave birth to a number of projects within Autodesk's portfolio, to commit to the need of staying ahead, and due to that need we have Inventor, Revit, 3ds Max and almost 60 other packages. Fortunately, for the architects and builders amongst us, we have Revit. We will do a thorough review of Revit vs AutoCAD to see which is best in different circumstances.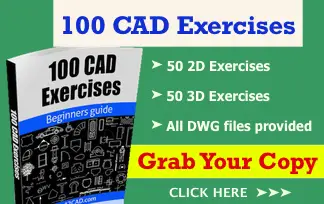 Check out this quick comparison of Revit vs AutoCAD. Make sure to check out the detailed explanations below:
| | | |
| --- | --- | --- |
|   | Autodesk Revit | Autodesk AutoCAD |
| User base | Structural developer/designer | Any 2D/3D designer/drafter |
| Scope | Architecture/Construction | General designing, drafting |
| Discipline | Architecture | All (civil, mechanical, architecture etc.) |
| Design | Orientation independent | Geometry-driven |
| Specific features | BIM, data management, conception to demolition phase management | Command prompt, layers, UCSICON |
| Most prominent | Structure-specific features | Generic feature set |
| Most dominant | 2D sketching and 3D design and rendering | 2D designing + documentation |
| Learning curve | Average | Small |
---
What is Revit?
Revit was created with the architects in mind and uses BIM (Building Information Modelling) techniques to deliver sustainable and reliable designs as well as data. Revit provides data management techniques as well, which is one huge benefit for architects and builders over AutoCAD. BIM allows data modelling based on the building design to empower the design, construction and maintenance phase with a backup of enough data to aid the demolition phase if ever need be. That's how far-fetched is Revit's focus on architectural design and development, whereas AutoCAD's won't offer any of these features.
What AutoCAD will offer is an industry wide reputation so moving from one team to another team won't cost you much when it's all about AutoCAD. For Revit, you might need to dig deep since it does not enjoy the same popularity. Also, AutoCAD has been around for 20+ years so its solids have been tweaked and tinkered with in every possible way, meaning an AutoCAD guru or certified specialist can probably do almost everything you can in Revit, with AutoCAD. But then again, that's a guru we are talking about.
But why Revit?
Revit has a few additional features that are absent in AutoCAD. AutoCAD's designs/drawings need special plugins or software suites for the following features which come in Revit by default:
Revit has virtual walkthroughs and site planning tools which one cannot find in any AutoCAD product unless it is specifically meant for the building/design/architecture industry.
Energy efficiency analysis and prototyping is available in the Revit Build suite, with the help of the GreenBuild engine integration
Structural and lighting (not the rendering lighting) analysis with cloud support
Scheduling and visualization techniques
Graphical communication and presentation material
Moreover, Revit has a few other perks to it such as 3D modelling or virtual presentations. In addition, they allow you to share many smaller models with the help of Navisworks to compile a final master model. Revit will allow you to perform 3D clash detection in the scenery, 4D scheduling and automation, and 5D cost estimations honing in on detail as far as the lighting and structural maintenance procedures. All in all, Revit has a significant advantage over AutoCAD for the architect and builder specific projects.
---
Industry specification
But taking all of this into consideration, we must keep in mind, that all the above pertains to the architecture specific projects, hence if you talk about a general 2D design and documentation software, AutoCAD has some advantages too. Where Revit has structural engineering capabilities, AutoCAD has solids that are much more authentic and developed compared to the material basics found in Revit. After all Revit was designed to develop prototypes whereas AutoCAD was developed for the all-rounded designer.
Check out this table below showing when and why one should use Revit or Autocad:
| | |
| --- | --- |
| Revit | AutoCAD |
| Designing/production tool | Designing, drafting and documenting tool |
| Industry specific purpose | General purpose |
| Industry specific reputation | Industry-wide reputation |
| Easy to use due to industrial specificity | Difficult to use and master due to generic domain |
| Comparatively new hence smaller portfolio | Older hence larger portfolio |
---
Face to face: Revit vs AutoCAD
Also, where Revit has dynamic simulation, which one cannot find in AutoCAD, AutoCAD's industry wide reputation allows a build of software and other platforms to be seamlessly integrated in the AutoCAD development environment.
Now some may argue that AutoCAD does not have cable and harness modules that are essential for certain structural designs within the development phase as well as for the purpose of aesthetics, these are available in Revit. But on the other hand, no one can dismiss the importance of a complete command prompt and its control over the finest of details, nor is the reliability of layers debatable no matter how tiresome and complex their understanding and usage.
That is the end of our head to head comparison of these softwares. Share your thoughts below in the comments.