In your average AA meeting, the first step to redemption and fighting off addiction is coming to terms with that terrible influence that holds you back. And to take this step, the instructor ensures that you say this phrase over and over again till it sinks in.
the phrase to be said goes like this; 'My Name is so, so and so, and I am an addict.
The above step—which can be applied in several situations—is also an important step for anyone looking to learn computer aided design to take. Therefor, before reading this review, I would like you to stand up and say the following words; 'My name is___and I am an AutoCAD dummy'.
The AutoCAD for Dummies is an extensive handbook—from the Dummies series—that provides its readers with well-illustrated chapters and information on how to get acquainted with the tools and features available on the AutoCAD 2014 package.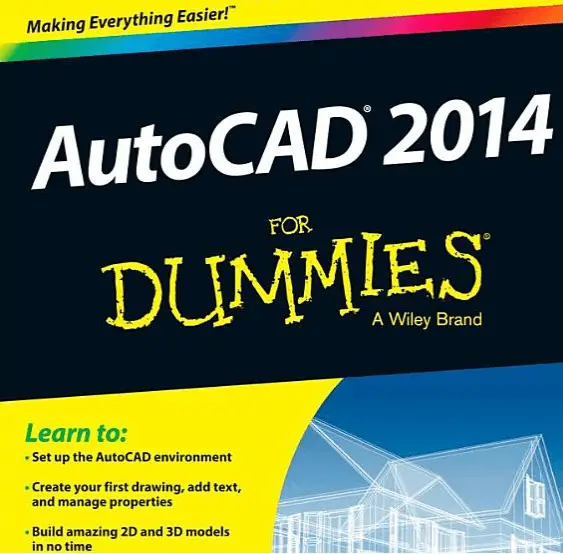 It comes complete will well indexed chapters that takes the student from the very first step of understanding the AutoCAD workspace to using the available tools and features to create or design graphic models. The book starts with:
On opening the book, you would be taken on a trip to explore the software's capabilities as well as the specifications needed for a computer to run and use the software to its full capacity. Next, comes a discussion about opening a new workspace and an explanation of the different parameters that makes up the workspace.
The tutorial then takes you on a tour to understand the available tools needed for working on AutoCAD 2014's workspace. These tools which consists of drawing tools, placement tools and design tools litter all sides of your work space and they serve as the pencil needed to draw on a drawing board. Understanding the use of each tool is critical to the success of how quickly you get to know the entire design process.
Next, the tutorial takes you through the design steps needed to create a model on its workspace using the already explained tools. This tutorial also includes the intricacies that come with coloring, texturing and creating a realistic looking character.
On concluding these earlier sections, the tutorial goes further to provide real world tips used by experienced engineers and animators when designing or handling more advanced projects, in order to help you fine tune your act to meet professional standards.
Lastly, the AutoCAD 2014 for Dummies teaches you how to monetize and network your newly acquired skill by using the AutoCAD DesignCenter platform to showcase your work and design abilities to potential clients and customers.
All in all, we believe that this is a book worth having by both beginners in the field of graphic design and engineering looking to build a career in designing for the long term. Because, the book offers you most of the guidelines and design tips you will need to succeed in the tough world of computer aided design.
<< Click here to purshase AutoCAD 2014 for Dummies on Amazon >>