How to Render in AutoCAD 2011
Rendering get non technical people to better appreciate and understand the design itself. Here is a small tutorial to help beginners model using AutoCAD 2011.
Keyshot, Rhino3D, Blender, 3DsMAX, Catia, Solidwork, Inventor, Maya are software who give users a different, "better" experience and image after rendering, but nonetheless AutoCAD 2011 is also a good way to go and I personnaly have been pretty happy with the result I get from it.
How to Render in AutoCAD
Redering will allow you to have a more realistic model at the end of your project, allowing you to have a clear image of what the final model will look like if it had to be printed.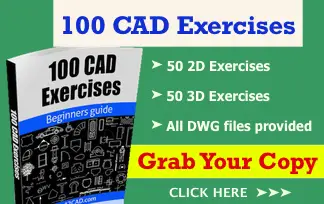 Using AutoCAD 2011, these are the set of images or views you can make your design to look like and of course we all most like the ending when the design is so real that your mates will want to know if it is not a picture.
View 1
View 2  (Conceptual view)
View 3
View 4 (Rendered image)
3D modeling – AutoCAD 2011
The Render Tab  on 3D Modeling offers a variety of tools which you can use to personalize your project before rendering.
We are able to determine the environmental aspect, Ajust the Sun Status or play with lighting properties but as a beginner, it will be easier to start by only changing the rendering background to Sun and Sky and play more with the material properties.
Its is better to always try applying different material to your design to see which one resonate more with the image you have in mind and to make sure your final image is realistic. This is a good exercise just to witness how much a change can affect the beauty of your final designed project.
The shadows can be included using Ground Shadows, but I noticed that on the rendered image the shadow was not visible. So, some I like using high reflective material to simulate the ground.
You can create light using the Option Create Light, in this case you will need to turn the Sun and Sky background off.
As stated above, the easiest background is achieved using the Sky Background. Using Create Light requires exercises to achieve a good rendering.Setting the background to Sky Background is advised for a start.
A click on Materials Browsers in the Render Tab will display the material Library.
The Materials Browser window allows you to choose a material from AutoCAD library and apply it to your drawing.
You also have a possibility to create your own material, and save it to the library for further use.
In order to apply a material to an object, you need to select the object first and select the material secondly.
On the View Tab, you can choose the way the project will be displayed on your drawing area allowing you in certain case to have a clearer picture of your project.
As easy as it it, you can just press the Render icon on your tools bar to render your image. (using the command line Render works too)
Saving the Rendered Image
A windows that looks like this pops up and allows you to save the image. This can take long, depending of the complexity of your project, the material used and the speed of your computer.
You can save the rendered image as a BMP, PCX, TGA, TIFF, JPEG, PNG file which are all image files.
Download the example used in this tutorial here