Best Mouse for CAD in 2020
Choosing the best mouse for CAD is an important task for designers. The mouse is the main input device which, as a CAD drafter, you will be spending approximately 8 hours a day holding.
Here's a rundown of what you should consider while choosing the best mouse for CAD work in my opinion.
---
 Best CAD mouse for 2020
Some of my best picks for a Pro CAD Mouse
Mouse
Details
Price
3Dconnexion 3D Mouse

Advanced 6 degrees-of-freedom optical sensor.
You can simultaneously pan, zoom and rotate 3D models. Includes 2 programmable function keys. This is ideal for 3D designers, CAD engineers, and architects.
Check its Price on Amazon
$$
3Dconnexion Spacemouse Enterprise Kit

This mouse introduces a new level of high-performance features that give you an unprecedented real-time understanding of engineering design. 31 programmable keys in total.
Check its Price on Amazon
$$$
3Dconnexion 3DX-700040 SpaceMouse Pro 3D Mouse

This mouse has a full-sized, soft-coated hand rest, six-degrees-of-freedom (6Dof) sensor, quick view keys, rotation toggle key, with intelligent function keys. The SpaceMouse Pro is a great tool for any CAD operator, be it engineers, designers, and architects who need to create 3D designs.
Check its Price on Amazon
$$$
Some of my best picks for a general CAD mouse
Mouse
Details
Price
Mionix NAOS 3200

Truly ergonomic design with support for all five fingers. Completely Plug'n Play and software needed only for configuration. The 7 buttons can be assigned to any key, mouse command, or macro. Choose from 3 DPI steps and switch between them.
Check its Price on Amazon
$$
Kensington Expert Wireless Trackball Mouse

This mouse has a large 55mm ball design and Diamond Eye optical tracking for super-precise cursor control. Its award-winning scroll ring lets you scan up and down pages very easily. Its detachable and ergonomic wrist rest supports the hand and wrist for improved comfort; Customizable 4-button design, scroll speed, and cursor speed.
Check its Price on Amazon
$$
Razer Naga

12 button thumb grid has been outfitted with mechanical switches to give you tactile and audible feedback. Features an all-new one-size-fits-all ergonomic form factor to ensure your hand fits snugly for maximum comfort. The scroll wheel on the Razer Naga now goes left and right, as well as up, down, and in for more buttons for your use.
Check its Price on Amazon

$$
Corsair M65 Elite

This mouse has a tough durable Anodized Aluminum Frame: Built to withstand a lifetime of drafting.
It has a very advanced Optical Sensor: Native 18,000 DPI, adjustable in 1 DPI resolution steps, gives you total sensitivity customization and ultra-accurate tracking.
It has a cool Precision Sniper Button that is ergonomically placed to instantly reduce sensitivity for crucial shots.
Check its Price on Amazon
$$
---
Wireless or USB mouse
I myself personally prefer a USB mouse, I would steer away from a wireless mouse to save myself from some headache related to battery replacement. But depending on your work station, you can consider going with a wireless mouse, which in some cases is the best option (You don't want to waste time every now and then pulling/fixing the mouse cord).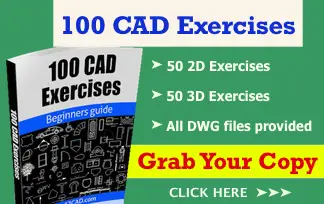 Scrollwheel
You need to have a mouse having an easy-to-click scroll wheel. The wheel, as you may know, is incredibly helpful for panning and zooming. You want to have a mouse having a scroll wheel that is able to easily differentiate a click from a scroll.
Brand
Logitech And Microsoft mice are pretty OK. If you are not too picky and are just looking to get something that will allow you to get day to day tasks done, you can opt to a basic mouse made by one of these brands.
Ergonomic
Ergonomically, the best mouse is the one that feels good in your hand. Your mouse should have a nice comfortable grip. While many advocate for a large mouse, I will go ahead and say that the best mouse is the one that fits best in your hand. (you surely want to stay away from small mouse)
The mouse resolution DPI
The higher the mouse DPI, the better. You need your mouse to have high precision and fast reaction. (The Dots Per Inch is a measurement of how sensitive a mouse is. The higher a mouse's DPI, the farther the cursor on your screen will move when you move the mouse). Highest DPI mice are mostly used for gaming, but having your mouse DPI relatively good will be necessary for your CAD work.
Thumb buttons (extra buttons)
Thumb buttons are also helpful. They can be programmed. You can set one of the thumb buttons of your mouse to press ENTER and another to press ESC. Or even further, you can program these buttons to toggle ortho/Dynamic UCS and more.
Mouse sensitivity
You may want to adjust the mouse sensitivity in Windows to make your mouse go faster or slower according to your need and workflow.
Going the extra mile
You can go on the "upper end" and opt for a gaming mouse for your CAD work. Gaming mice have keys with great response time and high DPI with extra buttons that can be programmed according to your need. To get such a mouse, you will have to spend a little bit more. But it's worth every penny.
Final Thoughts
The best mouse for CAD comes from personal preferences but remember to keep it simple if you are not yet sure what to go for. A three-button wheel mouse is in most cases the best choice.