Choosing the best mouse for CAD is an important task for designers. The mouse is the main input device which, as a CAD drafter, you will be spending approximately 8 hours a day holding.
Here's a rundown of what you should consider while choosing the best mouse for CAD work in my opinion.
---
 Best CAD mouse for 2023
Some of my best picks for a Pro CAD Mouse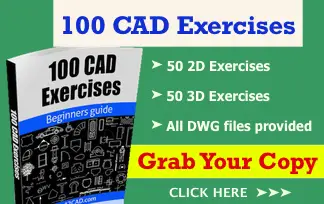 Some of my best picks for a general CAD mouse
---
Wireless or USB mouse
I myself personally prefer a USB mouse, I would steer away from a wireless mouse to save myself from some headache related to battery replacement. But depending on your work station, you can consider going with a wireless mouse, which in some cases is the best option (You don't want to waste time every now and then pulling/fixing the mouse cord).
Scrollwheel
You need to have a mouse having an easy-to-click scroll wheel. The wheel, as you may know, is incredibly helpful for panning and zooming. You want to have a mouse having a scroll wheel that is able to easily differentiate a click from a scroll.
Brand
Logitech And Microsoft mice are pretty OK. If you are not too picky and are just looking to get something that will allow you to get day to day tasks done, you can opt to a basic mouse made by one of these brands.
Ergonomic
Ergonomically, the best mouse is the one that feels good in your hand. Your mouse should have a nice comfortable grip. While many advocate for a large mouse, I will go ahead and say that the best mouse is the one that fits best in your hand. (you surely want to stay away from small mouse)
The mouse resolution DPI
The higher the mouse DPI, the better. You need your mouse to have high precision and fast reaction. (The Dots Per Inch is a measurement of how sensitive a mouse is. The higher a mouse's DPI, the farther the cursor on your screen will move when you move the mouse). Highest DPI mice are mostly used for gaming, but having your mouse DPI relatively good will be necessary for your CAD work.
Thumb buttons (extra buttons)
Thumb buttons are also helpful. They can be programmed. You can set one of the thumb buttons of your mouse to press ENTER and another to press ESC. Or even further, you can program these buttons to toggle ortho/Dynamic UCS and more.
Mouse sensitivity
You may want to adjust the mouse sensitivity in Windows to make your mouse go faster or slower according to your need and workflow.
Going the extra mile
You can go on the "upper end" and opt for a gaming mouse for your CAD work. Gaming mice have keys with great response time and high DPI with extra buttons that can be programmed according to your need. To get such a mouse, you will have to spend a little bit more. But it's worth every penny.
Final Thoughts
The best mouse for CAD comes from personal preferences but remember to keep it simple if you are not yet sure what to go for. A three-button wheel mouse is in most cases the best choice.