Eagle PCB Tutorials and Design Exercises
The industry of Computer Aided Design (CAD) includes Printed Circuit Board (PCB) design. Most people that are around technology have most likely seen a PCB. However, they probably were unaware of what it actually was. In simple terms, a PCB is a physical board with electrical components which performs one or many electronic-based activities.
I will share my expertise in PCB schematic and board design through the use of the Eagle PCB tool. This Eagle PCB tutorial will show a beginner how to take a circuit design (on paper or breadboard) to a PCB layout so it can be manufactured.
---
What Tutorials are Available?
There will be four categories of tutorials available. Tutorials will be consistently added to each category. To be notified of new tutorials, be sure to subscribe below.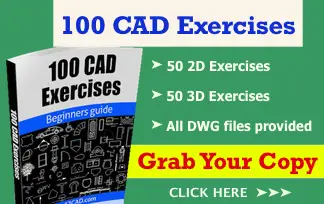 The categories are:
Basics of PCB softwares
New Part Design
Schematic Design
Layout Design
Be sure to check out the list of topics you will learn, which software will be used and why, and how the tutorials are organized.
---
Tutorials for Basics of PCB Softwares
Basic Tutorials
Description
1

Tutorial
Definitions and Acronyms in PCB Design

There is a large amount of jargon that goes along with PCBs. This tutorial covers the definitions and acronyms.

General definitions and acronyms
Schematic definitions and acronyms
Board layout definitions and acronyms

2

Tutorial
Setting up Eagle PCB

This tutorial covers the basics:

How to create a project
How to add component libraries
How to create a schematic

3

Tutorial
Options and Menus in Schematic Window

This tutorial covers the different toolbar and menu options available in the Schematic Window:

Explanation of the menus and their option
Explanation of the top toolbar (i.e. saving, opening, and creating)
Explanations of the left toolbar (i.e. add a part, add connections, add text)
---
Tutorials for Creating a NEW Part in the Eagle Library
Library Tutorials
Description
1

New!




Tutorial
How to Create a NEW Symbol

This tutorial covers the process of creating a new Symbol. In addition, these topics are covered:

How to create a new library
How to add a symbol to the library
How to draw the symbol
How to add electrical pins and edit their properties

2

New!




Tutorial
How to create a NEW package

This tutorial covers the process of creating a new Package. In addition, these topics are covered:

How to add a new package to a library
How to determine dimensions of the package from datasheets
How to draw the package and add copper pads
Additional tips and tricks about package design

3

Coming Soon!




Tutorial
How to combine a Symbol and Package to create a Device and add it to a Schematic

After learning how to create a symbol and package, the last step in designing a part is to create a device. The device combines a symbol and package. These topics are covered:

How to add a new device to a library
How to assign a symbol's pins to the package's copper pads
How to add the device part to a Eagle schematic
---
Tutorials for CAD Schematic Design
Schematic Tutorials
Description
1

Tutorial
Add a Part into a Schematic

This tutorial covers how to add a part into a schematic. An example is given with resistors and capacitors being added. Other aspects covered are:

Explanation of the different options when adding a part
Types of parts available
Footprint size (0402, 0603, among others) of resistors, capacitors, and more
Video tutorial included

2

New!




Tutorial
How to Draw Electrical Connections

This tutorial will discuss how to electrically connect parts together. The topics discussed are:

How to connect two parts together
How to add a junction between two parts
---
Tutorials for PCB Layout Design
| | Layout Tutorials | Description |
| --- | --- | --- |
| | | |
---
Which PCB Software will the Tutorials use?
I chose Eagle PCB because it is widely used by the beginner (DIY) community and has a number of pre-made component libraries, e.g. resistors, integrated circuits, among others, available. However, you can use any PCB software and the same principles will apply.
In these tutorials, I plan to guide you in creating a full-pledged PCB, which you can apply in your projects.
---
What will I Learn?
In the entire series of tutorials, you will learn how to:
Setup of PCB software to create projects, schematics, add libraries, among others
Definitions of important options and menus
How to add components and make electrical connections
How to label and add text for clarity
How to check if your design meets fabricator requirements, i.e. Electrical Rule Check.
How to layout your electrical components efficiently on your PCB
How to determine routing widths, use multiple layers and vias
Tips and tricks on how to create an effective schematic
Tips and tricks on choosing the right components, e.g. resistor sizes
How and where to manufacture your PCB after completion
And much more!
---
How are the Tutorials Organized?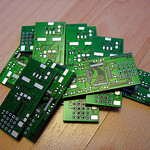 In general, each tutorial will consist of:
Explanations of the tasks and their importance in PCB design
Images and explanations of the steps
Video tutorial
I encourage you to follow along with the video and/or images so you can learn while practicing. Eagle PCB can be downloaded here for Mac OS or Windows.
---
About Me
My name is Mushfiq. I have a bachelors (BSc) degree in Electrical Engineering and currently pursuing a PhD. I have created numerous PCB designs over the years and have 6 years of experience in this field. My projects have won several national and local awards for best design and innovative ideas. My goal is to share my knowledge with everyone because electronics are fun and useful.