Amateur graphic designers, animators and sometimes professional CAD users keep two or three software applications that they use to handle different projects and it is not unusual to have one dedicated software tools for modeling characters and another dedicated to only handling renderings and simulations.
One may choose to have multiple drafting tools with the hope of becoming quite experienced with CAD interfaces before dedicating themselves to a particular brand.
If you fall into any of the categories explained above then it is recommended that you acquire some of the free 2D/3D modeling software that will be outlined below for your "graphic-design" pleasure.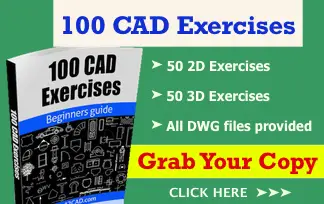 Free CAD Software
it is generally advisable for beginners—who seek to learn the basics of drafting 2D models—to stay away from advanced CAD platforms and stick to learning the basics from software applications that come with minimalistic interfaces and DraftSight happens to be one.
This software is a free 2D modeling tool that provides designers with Autodesk experience but without the hassles such as cost, and steep learning curves. It is equipped with a wide array and features that include: use of command lines, dimensioning features, layering capabilities etc. it also integrates the use of different file formats on its workspace.
2- Draftit
Those who are familiar with the Draftit brand know that it is a software that comes in two packages which are; a paid premium package and a free package for drafting 2D/3D models. The free Draftit—which concerns us today—is a simple free CAD software application that is equipped with planning and modeling capabilities.
Note that it comes with a limited tool set and should only be used on simple projects or by amateurs in perfecting their skills.
3- Crazy Talk 7
Animators who seek for something unique and a little advanced for designing facial expressions and 2D human characters can take advantage of the versatility Crazy Talk provides.
Despite its cheapness—for it costs nothing—this animation tool is well equipped with the features needed to draft 2D characters, render and animate them to a high display quality. Cray Talk works solely on Windows operating systems and it comes for absolutely free.
4- IronCAD Compose
Professional CAD designers in need of some inspiration when putting together a mock-up to be used when bidding for a project or for handling public presentations can make use of IronCAD compose to assemble diverse components from already designed parts with the hope of meeting deadlines.
IronCAD works by dragging already designed 2D/3D components into its workspace and arranging them according to your ideas to create complete models without the need to go through the gruesome process of 2D/3D modeling when starting from scratch. This CAD software application costs nothing and is a treasure to have.
5- Solid Edge 2D
I learnt 2D drafting using this free software application and I can authoritatively say that despite its cost, it happens to be one of the best drafting tools for students in architectural and engineering disciplines.
The software comes equipped with all the drafting tools you will need at beginners level, it supports multiple file formats, and also provides you with all the CAD standards—ISO, ANSI, BSI etc.—that you will need during your illustrious designing career.